There are various ways to keep in touch with your target audience online. One of the most effective techniques to grow your brand awareness and introduce your products and services to customers is through email marketing, a form of digital and direct marketing that allows you to promote your business using email. Different types of email marketing can also help you introduce your company's latest items or offers to your target audience.
Different Types of Email Campaigns
Sending out marketing emails to your customers is one thing but knowing what to say at the right time is crucial to your success. A great way to master this is to learn about the different types of emails you can send throughout your campaign. By learning about the specifics of each one, you can determine the message your customers need to receive at any time.
Welcome Emails
They always say first impressions last, so it's important that you make a good one for your new subscriber. To achieve this, you can send them a welcome email once they subscribe to your newsletter, product trial, or other offers.
Sending a welcome email to the new member of your email marketing list is one way of thanking and providing them with more information regarding your brand and products. Welcome emails also serve as your introduction to your target audience, so they can know more about what to expect from your company.
The different parts of your welcome email may vary depending on the services or products you're advertising. However, you should keep in mind to highlight the unique benefits and value your customer can expect when they choose your brand. You can also use your welcome email to explain how your product or service works and the steps your target audience needs to take to get started.
New Content Announcement Email
Do you have something exciting and fresh that you want to share with your customers? Sending out a new content announcement email is the way to go.
Through this kind of email, you can easily market your new product, sale, webinar, content, and other offers. All you need to do is talk about your specific marketing offer and describe it to your target audience the best you can. You should remember to keep your copy brief but comprehensive enough to be appealing to your audience.
Then, add effective call-to-action links that will direct customers to a targeted landing page made for that particular offer. Make your CTA link large, clear, and enticing to encourage users to click on them. You can also place a CTA button at the bottom of your email to remind users to take the action you want after reading your message.
Event Invitation Email
Sending an invite to your subscribers about your company's next big event is a great way to boost your attendance. However, to achieve this, you should make sure that your event invitation email gets your audience excited about registering. You can do this by highlighting what makes your upcoming event unique from the other ones you've hosted before and why it's worth their time.
Additionally, the best way to entice your readers to register for your upcoming event is through great visuals. This means that instead of filling your event invitation email with a block of text, you should take advantage of the different types of graphic elements that can make your campaign pop. You should also include pictures of your venue and speakers to provide more information to your audience.
Email Newsletters
One of your main goals in launching an email marketing campaign is to boost your brand awareness, so it's important to always keep your company on top of your customers' minds. There are many types of emails you can send to achieve this but the most popular are newsletters.
This kind of email primarily serves as a great touchpoint with your target audience to keep them updated with your new products, services, or offers. It is also a great way of keeping your readers engaged with your brand as you nurture their patronage for the years to come.
When creating your newsletter, use a simple format that you can use every time. Keeping your newsletters' format relatively identical can help your readers get used to what they can expect whenever they receive one. However, you can always tweak your newsletters depending on your email campaign metrics.
Additionally, you should include an attention-grabbing subject line to improve your open rates. Having a high-quality image with your headline, copy, and CTA will also make your newsletter more appealing to readers and effective in boosting engagement.
Product Update Email
To keep your customers in the loop about the latest regarding your products, you should send them a product update email regularly. This email should contain any feature or function changes in the products you offer.
Although sending product updates can be useful to some of your customers, others may find them unnecessary or uninteresting. So, to prevent your readers from hitting the dreaded unsubscribe button, make sure to keep your emails short and straightforward. You only need to list the basic changes to your products and present them using a clear headline, short description, and relevant image. Providing a link to every feature also helps your target audience learn more about it.
If you frequently update your products or change their features, you shouldn't bombard your audience with product update emails daily or every other day. Instead, you should save your product updates in a roundup email that showcases every feature change your customers need to know about.
Dedicated Send
Sometimes, you might want to send a dedicated email to a certain part of your audience. This type of email may contain marketing information or offers that only this group of subscribers can benefit from.
For example, you're hosting an exclusive event or conference for your customers and subscribers. Since you want to keep it private, you will need to send the event details and updates only to those who have registered for the occasion. Doing so will help you avoid sending event details to subscribers who aren't interested in your event and spamming their inboxes.
To put it simply, dedicated emails are only sent to a part of your email list, particularly those who will benefit the most from the information included in the email.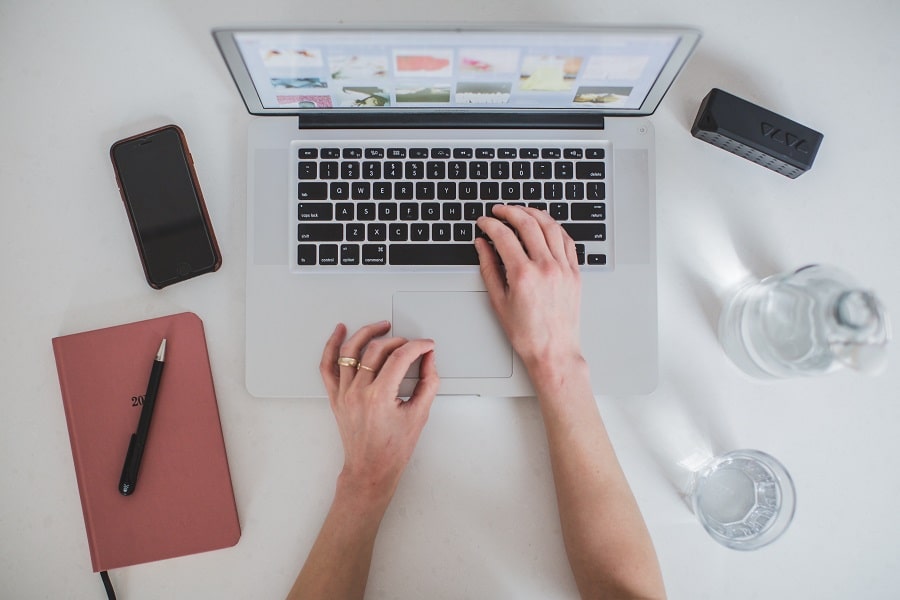 Co-Marketing Email
Co-marketing email is a type of marketing tool sent by two or more companies that are partnering with each other. This kind of email is often used to advertise an event, promotion, or mutually beneficial task.
Businesses collaborating with each other often use co-marketing emails to take advantage of each other's reach. So, instead of promoting your partnership solely to your audience list, you can reach more people by sending your email blast to your partner company's audience as well.
When sending a co-marketing email, make sure to highlight that the offer or event is the outcome of a collaboration with the other company. You should mention both companies on your copy and include both logos in your template.
Seasonal Campaign
Jump on the bandwagon and use the holiday season to promote your products and services. Whether it's Christmas Day, New Year's Day, Thanksgiving, or Valentine's Day, you can send a marketing email that associates your brand with any occasion.
For an effective seasonal email campaign, you need to create a buildup of emails before the actual holiday. You can send teasers of the promos, new products, or events you'll be launching on the holiday to get your readers excited about them. While doing so, make sure to use a consistent format throughout the campaign. So, if you're advertising a new product that will be launched on Valentine's Day, use a pink theme with related graphic elements, such as hearts and kiss marks.
Using urgency can also be a great marketing technique to get your audience hyped about the holiday. This is especially effective if you'll be offering a special discount or promo that will only be available during the holiday.
Confirmation Email
Nowadays, online shoppers are very wary of getting scammed or running into any online transaction problems. That's why they always look for a confirmation email immediately after making an online purchase. Sometimes, if they fail to receive a post-purchase message after a minute, they start to get nervous that their transaction wasn't successful.
To ensure that your customers don't have to deal with this nerve-wracking experience, you should send a post-purchase confirmation email every time they complete a transaction on your website. Your confirmation email's subject line should be clear and concise so your customer can be at ease once they receive your email without having to open it.
Then, your email's body should be brief and comprehensive. Ideally, it should contain the summary of your customer's purchase, the amount spent, and the estimated shipping date (if applicable). Your confirmation email should also include a tracking number and a button where the customer can track their order.
Cart Abandonment Email
Customers window shop online too. Sometimes, they spend time browsing through your store and adding items to their cart. But after a while, they abandon their cart and move on with their day.
Instead of being disappointed by the abandoned carts your website gets, you should see this as an opportunity. To entice your customers to return to your online store and click the buy button, you should take advantage of cart abandonment emails.
You can use this type of email marketing tool to remind your customers about the items they left in their carts. For a more encouraging approach, you can even provide them with a special discount if they check out the items in their online cart within a limited amount of time.
Form Submission Email
Show your gratitude to a prospect, lead, or customer whenever they complete a form on your website. Upon submitting the filled-out form, the individual should receive a kickback email right away. This type of email is commonly referred to as a thank-you email.
Most of the time, thank-you emails are sent to fulfill the promise you made to the user when they completed your form. Whether you guaranteed to provide them with an eBook, PDF, free trial, or other offers, you should include a CTA linking to the material in your kickback email. Lastly, you shouldn't forget to thank the individual for taking the time in answering your form.
Lead Nurturing Email
Lead nurturing involves the strategy of learning about and understanding your customer's needs so you can lead them down the marketing funnel and make them sales-ready. To achieve this, you should create and send a series of related emails that contain useful, targeted content for a specific group of your subscribers.
You can start by finding a group of people in your subscriber list that you know are interested in a particular subject. Then, launch an email campaign consisting of a group of relevant and targeted materials that will entice readers to continue supporting your business.
To make your efforts more effective, you can state right away why you're sending a lead nurturing email to your recipient. You can phrase it as follows: "We noticed that you're interested in [topic or product] since you downloaded/bought our [material or product]. We thought you might want more information regarding [topic or product]…" This way, your audience will have a clear idea of why they are being sent the email. After that has been established, you can proceed by sending messages in the same format as your general marketing offer emails.
Start a Successful Email Marketing Campaign
Now that you've learned about the different types of email campaigns, you can start reaching out to your target audience to boost your brand awareness. However, if you want to reach your goals faster, it's best to take advantage of the email lists we offer at Leads Biz.
You can count on us for accounting, lawyer, real estate, and contractor email lists. We also offer mailing lists containing the contact details of professionals from other industries. Each lead we provide has been gathered from trusted sources and is qualified using our intuitive system. To learn more about what we offer, register on our platform.