Starting a new business, moving to a new building, or renovating your current space is a big step in your career. Taking this step requires you to consider various things, such as the devices you need for your business, your utilities, and finding the time to update your business information. It's also important that you have an email list of interior designers in your area. Hiring an interior designer can make this big step more manageable for you.
Interior designers can easily make your place look more put together, inviting, and cozy. They also have the professional training to make your space functional without sacrificing its appearance.
However, before hiring an interior designer for your new business space, you need to learn about the different pros and cons of doing so. This will allow you to manage your expectations of working with an interior designer.
Pro #1: Save Time and Energy
Interior design is not an easy task. If you think that it only involves choosing furniture and décor that match, you couldn't be more wrong.
Aside from choosing furniture and decorations that fit your aesthetic, an interior designer will spend their time taking measurements, creating a floor plan, styling different rooms, and curating a space that suits your preferences. These tasks take a lot of time and energy.
So, if you want to focus on other important aspects of your business, such as marketing and sales, it would be best to hire an interior designer. This way, you can save time and energy in creating the perfect space for your business.
Pro #2: Access Special Discounts and Exclusive Products
Designing your office space on your own can be challenging. Aside from the time and energy you need to invest in designing your space, you also need to know where to get the things you need to achieve your vision. This may be hard, especially if you do not know anyone in the interior design business.
When you work with an interior designer, this wouldn't be much of a problem. Interior designers have special connections with suppliers, which allow them to access high-quality or exclusive products, including furniture, flooring, and decorations. They can also use their network to help you get special discounts on your purchase.
Pro #3: Connect With Trusted Professionals
You might have trouble looking for reputable contractors, suppliers, and specialists if you decide to design your office space yourself. When you work with an interior designer, this is one less thing you need to worry about.
This is possible because interior designers have various resources and wide networks that they can use to ensure the success of your design project. They most probably have a list of trusted professionals that they can contact whenever your project calls for it.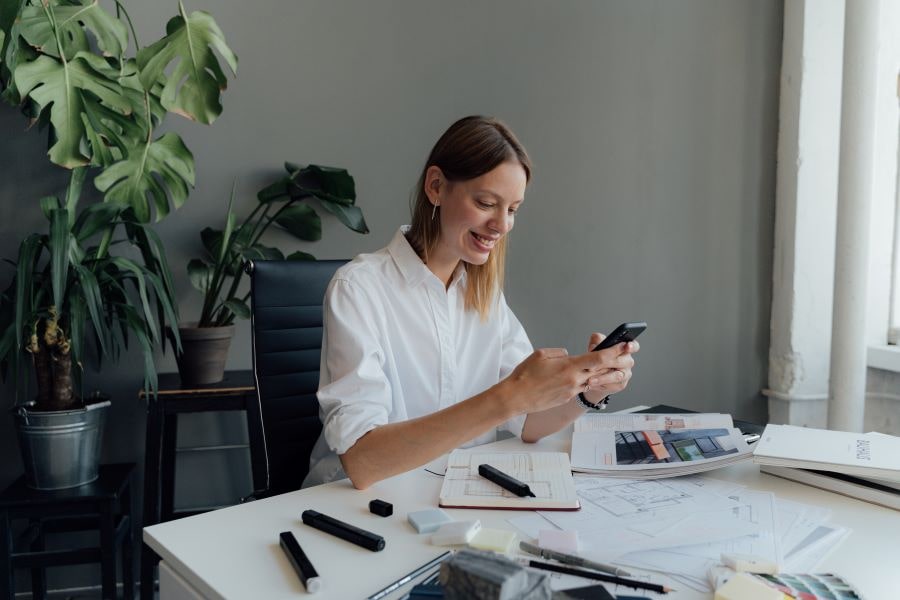 Con #1: Cost
One thing you might need to consider before going through your list of interior designers' email addresses and hiring one is the cost. Working with a professional interior designer does not come cheap and may cost you at least a few thousand dollars. This estimation may not even include the cost of buying furniture and other fixtures yet.
Therefore, if you have a tight budget, you need to think carefully before deciding to hire an interior designer. You can always ask for a quotation first so you can have an idea of how much you need to prepare before starting your project.
Con #2: Less Personal Design
When you work with an interior designer, you need to be prepared to give up some control over the design of your space. This is because interior designers have their own vision and style, which may not always suit your preferences.
To avoid having to deal with this problem, you should be more meticulous when looking for an interior designer. While browsing through interior designers' email addresses, you should remember to look for a professional who is willing to create a space that showcases your personality and brand.
Find an Interior Designer for Your Business
Now that you've learned about the pros and cons of hiring an interior designer for your business, you can assess if you should hire one. If you decide to do so, you need to look for a reputable interior designer. You can do this by going through a list of interior designers' email addresses and finding a professional who can achieve your vision for your space.
To make your search easier, turn to us at Leadz.Biz. We offer a downloadable database that includes thousands of interior designers' email addresses. Try our lead generation software for FREE!