As you construct your building, you'll realize how much financial resources you'll need to commit to it, and this may lead you to skip out on some services. One of the things that you might consider foregoing is a licensed electrician for your business, which may cause some challenges for you down the line.
In this blog, we tell you about the numerous benefits of hiring a licensed electrician for your business. Keep reading to learn some of the most crucial reasons why you should hire an expert to manage your property's wiring.
Safer Results
The National Fire Protection Association (NFPA) has stated that electrical defects are the fifth leading cause of fires in commercial properties. The worst part about these kinds of fires is that there is no indication as to when it will happen, and it can happen instantly at any time of the day.
Listed below are the three main classifications of electrical fires:
Worn out equipment such as ill-maintained motors.
Improper use of equipment such as overloaded cords.
Accidental occurrence or operator errors such as clothes encountering appliances.
When you avail of a licensed electrician for your company, they can help you identify some of the risky electronics in your property and even repair some of them to work in peak condition once again.
You can rest easy knowing that your property is in the safe hands of an electrical expert. An expert who most likely has a clientele who can give you glowing reviews about their work.
State Licensed
Each state has its own set of requirements before granting an applicant their electrician's license. Depending on the issuing location, an electrician will need to render 4,000 to 12,000 hours of on-the-job training and pass rigorous state-issued examinations. Due to this, electrical professionals have updated knowledge about electrical structures and know which ones to remove and if it's up to code.
Of course, the prerequisites will vary between electrician types. For example, commercial electricians are mandated to learn the proper wiring and installment of 240v structures.
Once an applicant gains their license, all the projects they take on becomes accountable to the electrical division of the state, giving you an extra sense of security about hiring this expert.
Efficient Systems
If you're constructing a property, a licensed electrician can work with your production manager to set wires down and come up with a plan to make the project more energy efficient. In addition to that, having an electrician on your staff means that electrical systems can be repaired promptly so that your operations running are always running smoothly.
For large electrical structures like those in commercial properties, you'll want a professional who knows how to create an efficient power structure and work with the voltage requirement. Licensed electricians will also know the proper installation of backup power sources to preserve critical business functions and maximize your business' productivity.
For example, if you have a convenience store in your building, your electrician will know that to keep losses at a minimum if there's a power outage, they'll need to install a generator to preserve the frozen and chilled goods.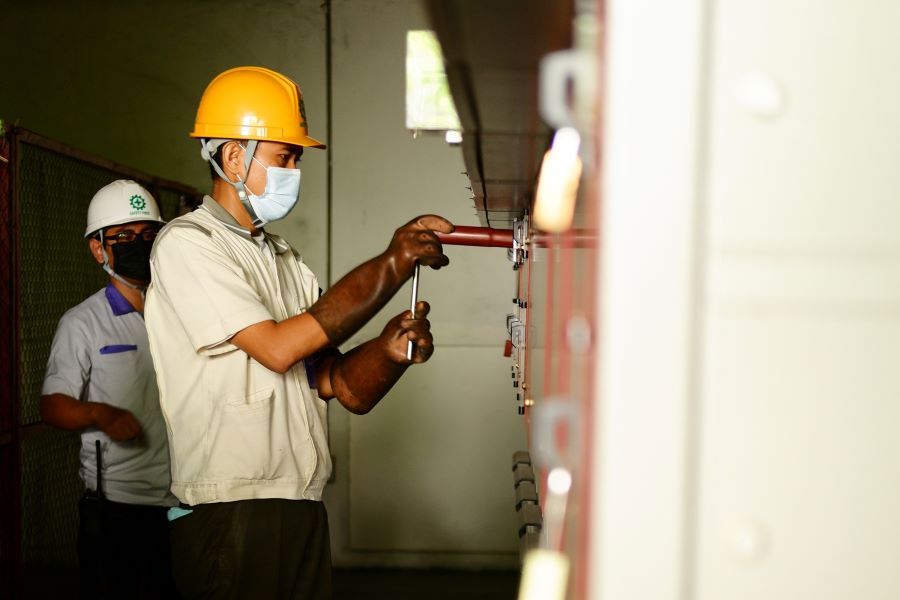 Minimizing Risks
Electrical work can be dangerous and if you're looking to do some of these electrical functions yourself, you may be risking your life and your property's integrity. If electrical work is done incorrectly, it can lead to accidents and even fatalities. This is why hiring a licensed electrician is crucial for the safety of your structure and your clients.
Insured Individuals
Working with electricity means that an electrician is exposed to a lot of hazards. Aside from dealing with high voltages, these professionals will also be exposed to physical risks such as working in high areas and construction hazards. With danger lurking at every corner, it's best that you protect yourself and your assets from financial liability.
When you hire a licensed electrician, you won't need to shoulder medical bills should something go wrong. That's because they're required to have their own worker's insurance.
Employing a Licensed Electrician For Your Business
We've mentioned above some of the top reasons why you should employ a licensed electrician for your business. Hiring this professional is a step in securing your business' future and property's longevity. If you're looking to find the right professional to work with, you can go through Leadz.biz's database of electricians and find someone who's a right fit for the job. Contact us today and we'll give you a free 30-day trial of our services!